Description
Draw, trace, and create masterpieces with the Professional Tracing Light Pad
Whether you're a professional artist or an amateur who just loves to draw, the Professional Tracing Light Pad makes it incredibly easy to trace drawings or add to existing work. The light pad is the perfect tool for tracing animations, cartoons, stencils, tattoos, drawings or arts and crafts. The convenient touch switch makes it easy to use and turn on and off.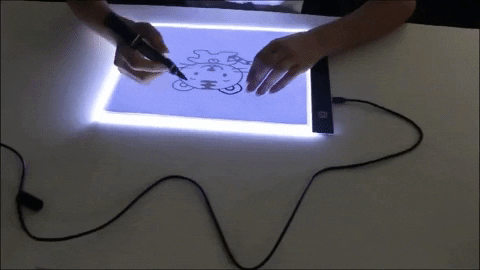 The Professional Tracing Light Pad provides you the perfect amount of illumination to clearly see even the most intricate details while you produce your artwork. Whether you're a professional artist or just love drawing, this is perfect for you. The A4 sized design along with the touch-responsive brightness adjustment makes it the ideal pad for most artwork.
The sleek, lightweight, and durable body make it perfect for carrying while traveling. 
Features:
3 adjustable light settings
Acrylic - Very durable and can handle more than enough weight
Super bright light easily shines through most types of paper
Lightweight and sleek design
Eyesight-Protected Technology, 

Doesn't hurt your eyes
Convenient for use on a desk or on your lap. It's easily assembled, carried and stored away.
Perfect for using with diamond art kits as well

 
Specifications: 
Frame size: about 33.3 x 21.5 cm / 13 x 8.4 in
Working area: about 30.2 x 21.5 cm (A4) / 11.8 x 8.4 in
USB Cable length: 200 cm / 78 in
Thickness: about 0.35 cm / .13 in
Light source: LED
Voltage: 5V
Power: 2.2W
Package Includes:
1 x Professional Tracing Light Pad
1 x USB Cable
Payment & Security
Your payment information is processed securely. We do not store credit card details nor have access to your credit card information.